Ural 4320 Cover
V Beta 0.1 Mod für SnowRunner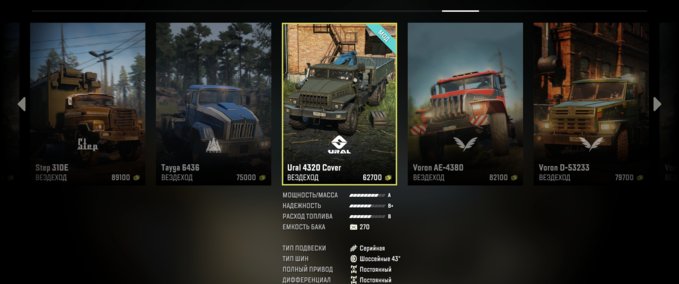 Beschreibung
Der Ural-4320 ist ein Allzweck-Geländewagen 6x6, der im Ural-Automobilwerk in Miass, Russland, für den Einsatz in der russischen Armee hergestellt wird. Er wurde 1976 eingeführt und wird noch heute produziert. Die Radanordnung des Ural-4320 wurde für den Transport von Gütern, Personen und Anhängern auf allen Arten von Straßen und Gelände konzipiert. Sie dient auch als Startplattform für den Raketenwerfer BM-21 Grad.
Credits
Änderungen
14. Juli, 16:43 Uhr

Version Beta 0.1

The Ural-4320 is a general purpose off-road 6x6 vehicle, produced at the Ural Automotive Plant in Miass, Russia for use in the Russian army. Introduced in 1976, it is still in production today. The wheel arrangement for the Ural-4320 was designed for transporting cargo, people and trailers on all types of roads and terrain. It also serves as a launching platform for the BM-21 Grad rocket launcher.
Empfehlungsrate
-/-
noch nicht genug Stimmen
Ist dieser Mod besonders empfehlenswert?
}