DeckFX
V 1.0.0 Mod für Skater XL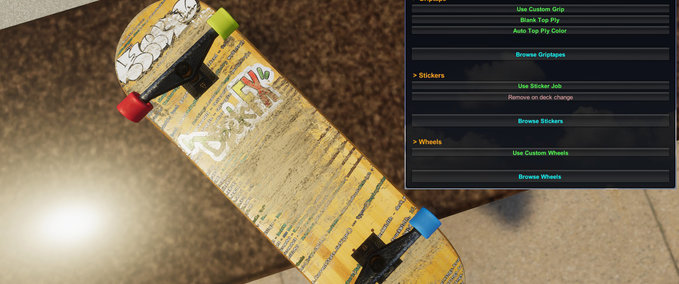 Beschreibung
Voraussetzungen:
- Skater XL 1.1
- Unity Mod Manager 0.22.5.0 oder höher
MENÜ ÖFFNET MIT F3
(Alternativ funktionieren auch noch Alt+K oder AltGr+K)
Features:
- Skalieren Sie Ihr Board, Trucks und Wheels und tauschen Sie die Meshes/Shape des Decks und der Wheels mit einer Auswahl an mitgelieferten 3D-Modellen aus.
- Fügen Sie Ihrem Deck ein oder zwei Rails hinzu
- Nutzen Sie Ihr Deck und Griptape im Laufe der Zeit visuell ab, wenn Sie bailen, Stöße erleiden und Slides machen.
- Legen Sie ausgeschnittene Griptapes an, wobei sich die Farbe der oberen Lage darunter automatisch anpasst.
- Verwenden Sie Aufkleber auf Ihrem Deck, um Ihre Sponsoren oder einfach nur Marken, die Sie mögen, zu repräsentieren.
- Ändern Sie die Textur jedes Rads separat
- Jede Funktion kann einzeln umgeschaltet werden
Beschreibung:
Unter anderem vereint DeckFX euer altes Board Wear und Shape Menu in einem Mod. Dies geschah aus mehreren Gründen.
Einerseits waren sie irgendwie voneinander abhängig, um sicherzustellen, dass alles korrekt skaliert ist
Zweitens macht es die Arbeit für mich einfacher, da beide miteinander kommunizieren können
Drittens macht es mehr Sinn und ich hoffe, dass es auch für Sie einfacher wird.
Zusätzliche Downloads:
Credits
Änderungen
16. Januar, 18:05 Uhr

Version 1.0.0

(since Board Wear 2.6.1 and Shape Menu 2.5.2)
- Added Custom Wheels. Set a different texture for each wheel!
- Added Normal and MaskPBR support for custom griptapes
- Fixed lag on wear level change. No more hick-ups mid trick or at all for that matter
- Added higher quality default normal map for cut-out griptapes (4k)
- Added an all pink default Mask map for gripates
- Added Andy Anderson board shape
- Added Hammerhead (Hosoi) shape
- Fixed Deck Rails screwing up when launching the game
- Fixed Texture Browsers being weird when no textures were found
- A lot of 'under the hood' changes
- Grip Browser and Sticker Browser search sub-folders now too
- And probably some other minor stuff I have forgotten about...

Empfehlungsrate
-/-
noch nicht genug Stimmen
Ist dieser Mod besonders empfehlenswert?
}