Xft DamagePanel + integrated hitlog v0.21
V 0.9.14 Mod für World Of Tanks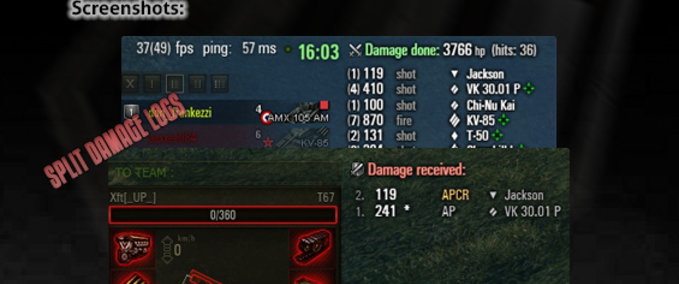 Beschreibung
Xft DamagePanel for World of Tanks 0.9.14 by Xft. Very beautiful and informative DamagePanel + integrated hitlog.
Feature list:
— Vanilla damage panel;
— Fire icon and message;
— Fire sound alarm;
— Animated damage messages;
— Custom damage received log;
— Custom hit log (XVM only);
— Total amount of damage and hits received;
— Damage amount received and type of shell;
— Received hits: ricochet, critical hit, damage, etc.;
— Attacker tank type, player name;
— Total amount of damage and hits fired;
— Type of damage done and hp left in all enemy tanks.
— Two versions / hitlog placement;
Installation:
Download and unzip the archive
Copy the "res_mods" folder to: "….WoT"
Note: The hit log only works if you have the XVM
Änderungen
11. April, 13:16 Uhr

Version 0.9.14
Dateien
Empfehlungsrate
-/-
noch nicht genug Stimmen
Ist dieser Mod besonders empfehlenswert?
}