KARTE "EUROADNET" [1.38.X]
V 1.0a Mod für Eurotruck Simulator 2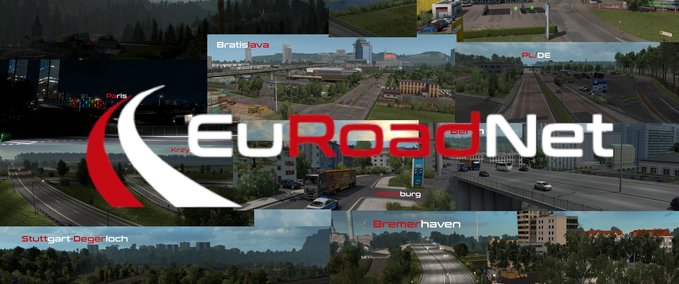 Beschreibung
EuRoadNet is an innovative map mod for Euro Truck Simulator 2. We aim to creatively rebuild and extend the original map, adding new cities, roads and more, always full of detail, as true to life as possible and packed with micro innovations.
It all started back in August 2019 as the GerMap by @Topolino and @The Nightgames which was dedicated to rebuilding and expanding Germany. Following the great success of the first version, in October 2019 the decision was made to grow the team and work on all of Europe instead of only Germany.
Now, we are already six map and sign developers working on this project, and everyone has his own lovely style.
EuRoadNet v1.0 released on the 15th of August, contains lots of new areas and improvements in Germany, Poland, France, Belgium, Denmark, Slovakia and other countries!
To make it clear, the map requires all current map DLCs (Going East, Scandinavia, Vive La France!, Italia, Beyond the Baltic Sea, Road To The Black Sea) and the current game version to be installed. Compatibility with other maps (especially ProMods, MHAPro, TruckSim-Map) is not supported. However, you don't need to create a new profile.
Credits
Modell: EuRoadNet Team
Textur: EuRoadNet Team
Script: EuRoadNet Team
Idee / Konzept: EuRoadNet Team
Tester: EuRoadNet Team
Sonstige: EuRoadNet Team
Änderungen
19. August, 12:25 Uhr

Version 1.0a

EuRoadNet v1.0a [1.38.x]

Fixed version, named V1.0a for download, with the needed arrangements...and that's the reason why:

However, after a conversation with the mappers from the Promods team, it has been revealed that one of our mappers, TheNightgames, has stolen work from other maps, the said areas are Bratislava by the Great Poland mod and the road between Praha and Mladá Boleslav by Promods.
We have looked deeper into the issues and have removed them from our map.
We do not tolerate any mapper in our team who steals or uses other people's work without their permission, and to lying about this. Now that we found this out, the mapper has been kicked out of the team. We apologize for the inconvenience caused by this, and we thank Promods' team for helping us discover the issue and working with us quickly to fix it.

16. August, 07:46 Uhr

Version 1.0
Dateien
Empfehlungsrate
-/-
noch nicht genug Stimmen
Ist dieser Mod besonders empfehlenswert?
}