Accessoirs Mega Paket von SiSL [1.39.x]
V 3.3 Mod für Eurotruck Simulator 2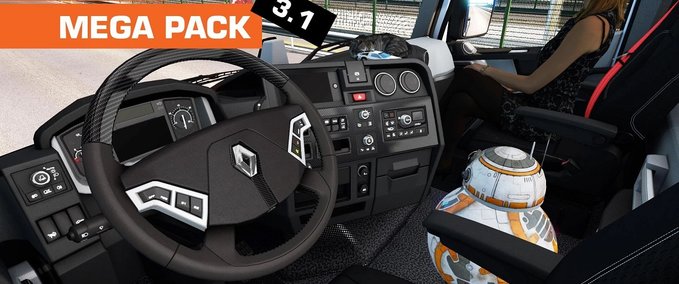 Beschreibung
Changelog v3.2
Added support for Freightliner Cascadia 2019 and Western Star 49X
Changelog v3.1
Added support for Mercedes New Actros 2019 by Actros 5 Crew
This mod contains over 500 items of salon accessories:
- Spiderman
- Baseball
- Mugs: ATS Man, ATS Woman, Radiotrucker, Hobbit's Love, FC Barcelona, Real Madrid, Chelsea, Manchester United, Arsenal, Bayern München, Liverpool, AC Milan, New Castle United, Tottenham Hotspur, Mother Trucker
- Customizable cups (330 ml and 250 ml),
- Pokemon: Giratina, Zekrom (for dashboard and seat) Gyarados, Magikarp for hanging,
- Cigarettes: Marlboro Lights, Lucky Strike, Winston Red,
- Photo frame - 4 small versions,
- Volvo FH16 Classic toys,
- Portable bag,
- Tablet PC, GPS,
- Warning signs (rectangular) for the windshield: "No Smoking, Don't Touch my truck, Don't tell me how to do my job, Diesel",
- Warning signs for the windshield: "Baby Player on board, You shall not pass, Long Vehicle",
- Hacivat & Karagöz for windshield,
- New magazines: Amiga Format, Commodore, Maison Française, Lezzet,
- Laptop versions white and gray are also added with Info about truck (cargo computer) and GPS version.
- TIE Advanced,
- Chewbacca figurines,
- Han Solo Statuette,
- Landspeeder XP-34 (for console and dashboard),
- Speederbike 74-Z (for console and dashboard),
- AT-AT soft toy,
- Tauntaun Soft toy,
- Water,
- a can of soda,
- coffee mugs,
- amulets, car fragrances,
- dream Catcher,
- football balls,
- documents,
- Dog,
- 2 baby dolls, kittens,
- Garfield,
- Odie,
- Cowboy hat,
- TARDIS,
- BB-8 Droid,
- Pencil case,
- Leather briefcase,
- Cleaning kit (microfiber cloth and spray),
- 5 customizable photo frames (see settings section),
- Medicines,
- First aid kit,
- Portable flashlight,
- Yolka (SE version),
- Futurama Robot Santa,
- Eiffel Tower (souvenir),
- Cubes for the windshield,
- Keychain (customizable),
- Warriors of the Amazon (5 Models),
- Summoners of the Viking War (5 Models),
- Batarang (because I am Batman),
- Eagle Statue,
- Wooden Dragon Statue,
- Donkey Kong (toy),
- Futurama: Bender Flexor,
- Flowers (on the windshield),
- Decorative mirror,
- Peterbilt 389 (toy),
- Retro toys.
Work in 1.36 - 1.39
Credits:
SiSL
Credits
Modell: SiSL
Textur: SiSL
Script: SiSL
Idee / Konzept: SiSL
Tester: SiSL
Sonstige: SiSL
Änderungen
29. April, 21:48 Uhr

Version 3.3

Accessories Mega Pack v3.3 by SiSL [1.40.x]

This mod contains over 400+ cabin accessory items suitable for your taste, bringing female and male co-drivers, bobbleheads, accessories for truck driver needs, snacks, electronic devices, computers and tablets, lots of scarves, fresheners, toys and many many more…

Credits:
SiSL, Enixis Modding

11. Dezember, 09:35 Uhr

Version 3.2
Bilder
Dateien
Empfehlungsrate
-/-
noch nicht genug Stimmen
Ist dieser Mod besonders empfehlenswert?
}