Peterbilt 389 Modified [upd:25.02.18]
V 2.1 Mod für Eurotruck Simulator 2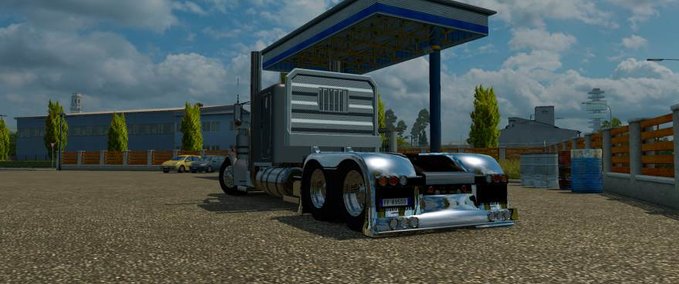 Beschreibung
Standalone truck, registered in the orders of agencies.
Purchased in Iveco.
Great tuning:
- 4 variants of the cabin,
- Different versions of the chassis,
- Different engine variants, and gearbox,
- Different salon variants
- GPS (it is activated by the key "?")
- different options for spoilers, bumpers, kenguryatnikov, headlights, etc.
- Fixed truck width and all necessary details (wing, bumper, mudguards)
- All models of headlights
- Added a new style of headlights
- Added several headlights as accessories
- Added new fender-bars / bars
- Added new footboards (379th classic style, 389th style with gearbox box)
- Added new mirrors (379th style)
- Added exterior style of interior 379
- Added round door windows when choosing 379 interior style
- Changed the paint material of the truck and the painted parts
- Added new bumpers
- Added new LED lights
- Correction of cab models
- Changed front bumper
- Added window lining for windows
- Added a new type of antennas
- Added new variants of combined varieties (dyed and short version)
- Added tank option as an accessory
- The coupling part is rewritten (now it does not conflict with other modes)
- Added new exhaust pipes
- Added slots for light on some sun visors
- Added new cabin stands
- Added new in-depth side panels
- Added retro spoilers for daycabs roof and flattop sleeper
- Added support for a heavyweight dlc banner stand and flags
- Updated engine sounds new from Kriechbaum
- Updated motors with torque
- Classic engines will be a separate addon mod
- Fixed some technical characteristics of the engine
- Fixed some bugs
Credits
Model: 
Texture: 
Script:
Idea / Concept: Kenworth58, Iljaxas, Ivan, Superman, Classick, Bayonett, Artic Wolf, Cedric, Peter379, Colonel, Dylan, Matt, Steve, Bora, Rowan, Sascha, Chris, maxx2504, Fabio Contier, Ventures87 (Wendi), RBR-DUK, Jon, Deadman, dmitry68, Stas556, Kriechbaum, Solutech, maxx2504, ED101, V2obert, viper2, Harven.
Testing:
Other: 
Änderungen
26. Februar, 15:43 Uhr

Version 2.1
Dateien
Empfehlungsrate
-/-
noch nicht genug Stimmen
Ist dieser Mod besonders empfehlenswert?
}