[ATS] Container Paket von Arnook (1.41.x)
V 1.0 Mod für American Truck Simulator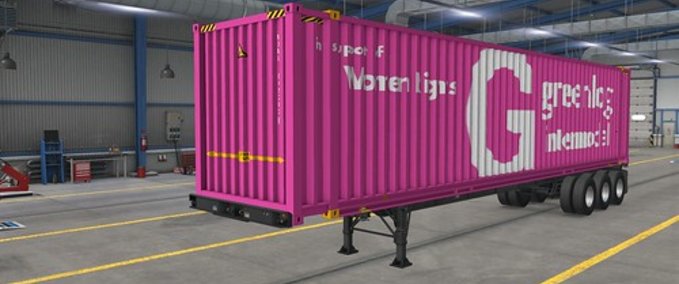 Beschreibung
Features :
Full compatibility with the SCS chassis configurations (singles, doubles, etc...)
- Available in the freight Market & for owned trailers
- The skin-selection is made randomly by the game (same system as SCS's original containers)
- All container variants in traffic (except for the 45ft for the moment)
- Supports both default & custom dedicated cargos :
--> Default cargos : just use the same cargos as you usually do and the default skins will be replaced by mine
--> Dedicated cargos :search for "Box Container" OR "Box Container HC" OR "Reefer Container" OR "ISO Tank Container" OR "Flatrack container", depending on the type of container that you want
Here are some of the differences with the ETS2 pack :
- There are no 2x20ft containers (ATS doesn't have a 2x20ft chassis)
- There are no 45ft reefer containers, 45ft regular boxes are there (the 45ft reefers that I have were made with Europe in mind and are therefore unrealistic in the US)
- The containers are usable on the container chassis only, ATS doesn't have a container option for flatbeds like ETS2 does (sadly)
- There is no additional 45ft chassis (ATS already has one in the base game)
IMPORTANT NOTE :
" I have selected a reefer/flatrack cargo but I got regular box containers, why is that ??"
ANSWER :
To avoid having empty chassis, I added the 20ft & 53ft to the reefer/flatrack cargos. I know it's a little unrealistic since those aren't reefer/flatracks containers but it's the best I can do to make sure you don't get empty chassis.
ALSO : I know that some of these skins are more Europe-oriented than US, I still think they look good on the roads of ATS
Game versions compatibility :
- V1 is compatible with ATS V1.41
Credits
Base containers : SCS Software
Mapping & Multilook adaptation (20ft, 40ft, 40ft Reefer, 20ft & 40ft Tanks) : MDModder
3D, new chassis, Cargos, Mapping & Multilook adaptation (40ft High Cube, Flat Rack High Cube, 45ft HC PW) : JUseeTV
Skins, defs & everything else : Arnook
Special Thanks to : MDModder for his help with the mapping & multi-look, Julian/JUseeTV for providing the 40ft HC, 45ft HC PW & Flatracks models; Ogentor for his help with the ADR plates; Carl1992 for all the help with codes, traffic,etc., NARS for the help with the default cargos, Niepa (<3), Tristan, Nico and Julian for beta-testing
Änderungen
24. September, 00:42 Uhr

Version 1.0
Bilder
Dateien
Empfehlungsrate
-/-
noch nicht genug Stimmen
Ist dieser Mod besonders empfehlenswert?
}