Volvo VNL 670
V 1.3 Mod für American Truck Simulator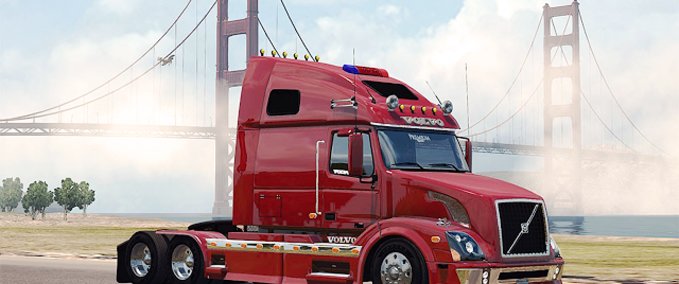 Beschreibung
Changelog v1.1 (This truck is a little different from ETS2 version, now.)– It's converted from Martinezio's v1.24, so it has all additional stuffs of v1.24,– Polygon count of the truck model decreased by 60%, there is no more yellow error log andyou will have more FPS,– Replaced EU backbumper with US style backbumper. It has skinnable mudflaps(template included),– Added some more ETS2 vanilla accessories,– Reflection reduced compared to ETS 2 version,– It has a truck template for skinning by Rene-Gad,– Front mudflaps and a lightbox with roofgrill added from Volvo FH2013 [ohaha], thank you very much generous ohaha.– Some model, flare, def, material, hook point, shadow corrections have been made.
Credits
Aradeth, Martinezio, Ventyres, ZilpZalp, Nordisch, cZak, Samson, Scania124L, loogie, kamaz aka, Snekko, TruckManiac, Peerke 145, vovangt4 ,AU44, Big Bob, ohaha
Änderungen
14. März, 21:01 Uhr

Version 1.3

V1.3 (Mar 11)

– Added 3 more front bumper variations.
– Added a heavy duty bumper with bullbar(4 trim variations and with slots)
– Added 4 hood statues(Tiger, Eagle, Jet, Horn)
– Added 5th wheel covers(Chrome, Paint, Plastic)
– Added yellow tint to the headlight glass as an option.
– Added 3 sideskirt variant with big tanks(Chrome, painted trims, full paint)
– Added 3 new sunshields(Fits perfectly.)
– Added 3 new doorhandles(Paint, chrome, plastic)
– Added front grill variations(Paint, chrome, plastic)
– Mudflap Hangers have 3 variations. (Paint, chrome, plastic)
– Added 4 new HD mudflaps.
– Roof and side windows have variations now.(Glass, paint/skinnable, plastic)
– Added paint/skinnable variant for side and front trims.
– Added 3 more roof grills with more slots.(One of them with a new lightbox)
– Other sidelights, hand bars, Volvo logo under the doors and plastic things on the truck
are now removable and you can add them in 8 variations.
– Added Air intake grill variations(Paint, plastic, chrome)
– Added chrome headlight fender guard and side headlight trim as an accessory.
– Front grill logo is now selectable (No logo, modern logo, old logo)
– Added 3 material variations for front grill and added 2 custom-made grills(Skinnable, chrome, plastic)
– Added a headache rack.
– Added new double full fenders(Chrome, paint)
– Added a bright chrome variant of half fender.
– Cab aerokit/back cab spoiler has variations now(Chrome, paint, plastic, no spoiler)
– Added D16G750 engine(by several requests)
– Added a new interior variant(Unique)
– Interior cabin reworked completely(Both 3d meshes and textures)Seats, small windows, gear stick, pedals etc.
– External interior renewed completely and thank you to AlexeyP for his HD texture file(Reworked by me).
– Added 2 new sets of tail lights.
– You can go everywhere in the cabin with the new camera.
– Added low-beam indicator to the dashboard.
– Fixed wiper animation on external view!
– Weird shadow on the truckpaint are now gone!
– Fixed oil psi(Thanks to herrmant) and adblue revometer.
– Fixed missing parts and shinny paint on the quick job trucks.
– Volvo dealers added to the game. (Thanks to Solutech for pointing that out.)
– Truck skin template updated. (You can use your old skins without a problem.)
– Polygon count of the truck model reduced by 10% again, compared to v1.2.
– The interior cabin polygon count reduced by 50% compared to v1.2
(That means it has almost equal polygon count as vanilla trucks.)
– Fixed visible flares when you selected other sunshields.
– All of the mirrors fixed, you can adjust them properly now.

26. Februar, 08:06 Uhr

Version 1.2

CHANGELOG 1.2 VERSION:

Added:
*Half Fenders(Standart, Chrome and Skinnable/Paint)
*Side Mirrors(Chrome, Paint, Plastic)
*Main Mirrors(Chrome, Plastic, Skinnable/Paint)
*Seperated left/right Bonnet Mirrors(3 types)
*Bug Shields(Chrome, Glass, Plastic/Skinnable)
*Headlights(Chrome, Plastic, Skinnable/Paint)
*Windows Decals(Windshield and side windows)(Thanks to ohaha for the material)
*Bottomgrill and sidebar(Paint, Chrome, Without bar)
*Slots on rear bumper(4 variations, old reverse and combo lights added as an accessory)
*A roofgrill without the bar(25+ slots)
*Sideskirts(Long, short with tanks and with chrome stripes)
*Back cab slots
*Front Bumpers(With/without fog lights and plastic/chrome stripe)
*Front/Back Licence Plate Holders(Light/Nolight and WOT/Custom variants)

– Added 4 new standalone interior with reworked materials.
– The dashboard is real HD now, every tiny piece on the dashboard texture
– Added some missing indicators.
– Reflection of the dashboard glass reduced, thanks to Smarty.
– Dynafleet and tachometer buttons and screens have backlights now.

– Added new sounds of Volvo, Caterpillar, (even if the Volvo don't have a Cat engine, the sound is nice), Paccar, and Cummins N14 by Kriechbaum.
– Edited gear boxes and engines with proper and realistics values and prices by Kriechbaum.
– Added new d13 and d16 engines with stock sounds from VNL780, thanks to Nado.
– Made the revometer accurate (rpms) by Kriechbaum, thanks.

– 3 new lowered chassis with proper collisions and shadows.
– Fixed overall collisions.
– Reworked front grill logo.
– All flares and lightmasks fixed/reworked.
– Added interior cabin light(Press "O")
– Added VNL670 sidelight as an accessory, so you can use it on other slots.
– Added some more accessories from ohaha's mods, thanks.
– Trailer hook point lowered a bit, again.
– Proper workshop icons(Thanks to ETS2Studio) and interior views of accessories.
– A lot of mesh, texture, def fixed.
– Reworked templates.

Please do not reupload the mod. Thank you.

10. Februar, 15:05 Uhr

Version 1.1
Dateien
Empfehlungsrate
-/-
noch nicht genug Stimmen
Ist dieser Mod besonders empfehlenswert?
}