ApolloPack
V 9.19 Mod für World Of Tanks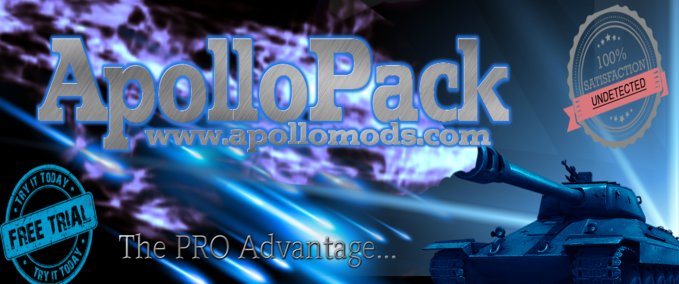 Beschreibung
AUTOMATIC UPDATES
Don`t need to check / download updates. Download the new version and install. Once you've installed, you'll always have the latest stable version.
POWERFUL CUSTOMIZATION
You can change more than 200 parameters and the mod-pack wants to look and work as you wish. No need to change tons of files - all settings can be changed directly in hangar.
SECURE AND AUTOMATED
No need to send your game ID / nickname, email or other personal data. So you do not need to wait for activation - You can activate by yourself !!! So easy :)
HAVE A QUESTION?
Just write to us, we will reply as quickly as possible. And we want to be glad to help you !!! www.apollomods.com
Änderungen
25. September, 14:08 Uhr

Version 9.19
Bilder
Dateien

Empfehlungsrate
-/-
noch nicht genug Stimmen
Ist dieser Mod besonders empfehlenswert?
Unterstütze den Entwickler!
Jetzt mit PayPal spenden
}