Grandpa's Crosshairs - Version 2
V 0.9.14.1 Mod für World Of Tanks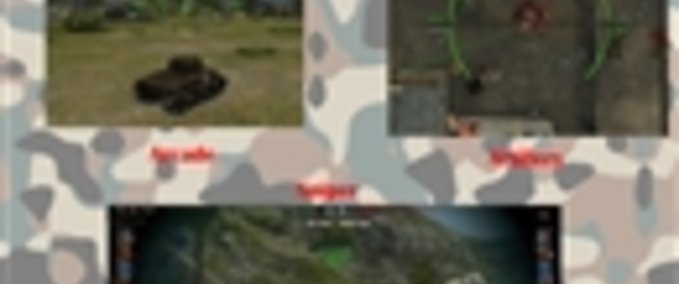 Beschreibung
This is a modification of the KISS Crosshairs. Some had asked to remove the information screen that showed target armor. This version changes the arcade and sniper view, but retains the armor penetration bulls-eye.
Can be modified in Menu->Settings->Reticle for the view you want.
Includes Damage Indicator
Installation
INSTALLATION INSTRUCTIONS
Copy/move the gui and scripts directories from the archive (zip) file to res_mods/x.x.x directory, where x.x.x is the current game version
OPTIONS
Under the OPTIONS directory in the archive (Zip) file are various options that you can install, they include:
- 2 Quantity in Clips indicators - 1 Alternate sight, usually very close to the mod default, but with some changes - 5 option sniper sights, options 1 and 2 include armor thickness indicators
To INSTALL OPTIONS, first you must install the default mod as it contains the script files, then copy the files from teh option directory into the res_mods/x.x.x/gui/scaleform directory
FEATURES
On screen info includes:
Loading time
rounds in clip
% health
Meters to target
In arty, time to target
Nickname and vehicle name of target
DISCLAIMER
I make, modify, compile, these mods for my own personal in game use. They change the game interface to look like I want it to look. I place them here for others to download and use if they so desire.
They are NOT "one size fits all" and will not please everyone. If you like them use them, if not, delete them.
You are free to customize or modify any of them, its your interface make it like you want. But DO NOT ask me to customize them specifically for you, or ask for details on how to customize them. If you are familiar with mods and xml, you can probably figure it out. I will attempt to correct bugfixes in the mods, as soon as practical.
Credits
Änderungen
09. April, 12:28 Uhr

Version 0.9.14.1
Bilder
Dateien
Empfehlungsrate
-/-
noch nicht genug Stimmen
Ist dieser Mod besonders empfehlenswert?
}