Hawg's Paint Ball Damage
V 1.2.0 Mod für World Of Tanks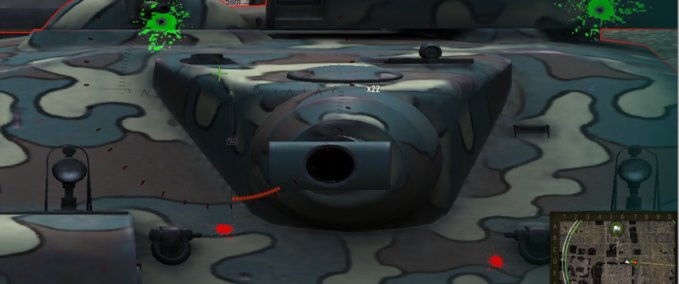 Beschreibung
Hawg's Paint Ball Damage...This mod will improve your game play by marking a penetrated shot with a green paintball splatter and a red splatter on non penetrated shot. You will know where to aim your next shot and not waste it on a Non penetrating shot. Unlike other paintball mods that have multi color chart that are hard to recognize and remember what color is what, Hawgs paintball is simple....Green splatter you aim for and red splatter you don't.....it just that simple. Easy to install.. 
2 version included , Normal and Color Blind .
Paint Ball Damage
Color Chart
Credits
Model: Paint Ball Damage
Texture:Hawg , 150
Script: Hawg
Idea / Concept: Hawgs
Testing: Hawgs , Egg
Other: 
Änderungen
09. Oktober, 11:12 Uhr

Version 1.2.0

Update 1.2.0

27. August, 23:02 Uhr

Version 1.1.0

1.1.0 update

23. Juni, 14:55 Uhr

Version 1.0.2.1

Update 1.0.2.1

11. Juni, 20:26 Uhr

Version 1.0.2.0

Update 1.0.2.0 Ready

30. April, 20:54 Uhr

Version 1.0.1

Update 1.0.1 Ready

08. April, 14:53 Uhr

Version 1.0.0.2

Update 1.0.0.2 Ready

01. April, 00:15 Uhr

Version 1.0.0.1
Dateien

Empfehlungsrate
-/-
noch nicht genug Stimmen
Ist dieser Mod besonders empfehlenswert?
Unterstütze den Entwickler!
Jetzt mit PayPal spenden
}