Level Break 3156 Map (v29.01.18) für SpinTires:...
V 1.0 Mod für Spintires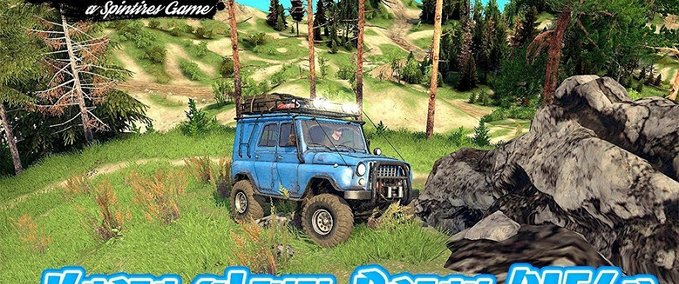 Beschreibung
Level Break 3156 Map v1.0 (v29.01.18) for SpinTires: MudRunner game.
Info about the mod:
A great addition added to the game Spintires MudRunner is Level Break 3156 Map for v29.01.18 game version, which can be downloaded for free and without registration. You can also see other fashion from the category maps for Spintires or go to the main section Spintires games.
The map is 20 to 20, there are no refs, but this did not affect the detail and balance of complexity on the map. The hilly open terrain prevails, the map can be traversed on an incomplete drive (tested on Mazakh-200, lawns-53, 52 from Pakhimon and Zile-130 defenses, Kraze-256), but I advise putting an all-wheel drive truck for safety, since in some places it will be difficult . On the closed garage version, the second slot (top) can be replaced, if the mod is put on the def. coupling and semitrailer tank.
On the map:
- 1 garage (closed / open);
- 1 refueling;
- 1 sawmill;
- 2 tons of loading;
- 3 sawmills;
- 4 tons of reconnaissance;
- 4 slots for your car.
Installing the map:
- Download mod map "Level Break 3156 Map" and unpack.
- Transfer the received folder Media to the folder with the game, agreeing with the replacement of files.
- Go to the Appdata / Roaming folder and delete the Spintires folder, thus clearing the cache (It is not always necessary).
- We start the game and play.  
Install:
Move the folders billboards, classes, levels, meshes and textures to the Media.zip archive in the root folder of the game or in the Media folder
Tested on game version v29.01.18
Credits
Modell: Дмитрий Назарков
Textur: Дмитрий Назарков
Script: Дмитрий Назарков
Idee / Konzept: Дмитрий Назарков
Tester: Дмитрий Назарков
Sonstige: Дмитрий Назарков
Änderungen
12. Juni, 00:53 Uhr

Version 1.0
Bilder
Dateien
Empfehlungsrate
-/-
noch nicht genug Stimmen
Ist dieser Mod besonders empfehlenswert?
}