Selas Mods Update 2
V 0.8.10 Mod für World Of Tanks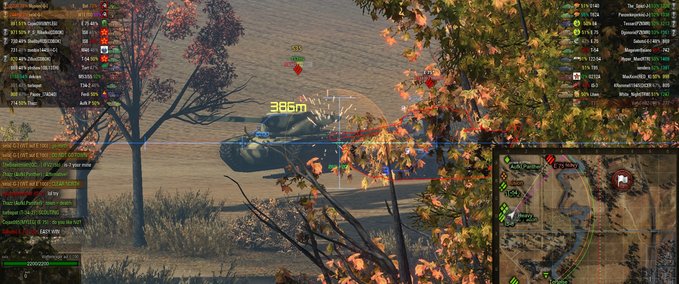 Beschreibung
** UPDATED FOR 0.8.10 **
.
.
** UPDATE 2 RELEASED 01/07/14 **
Incoming damage panel fixed
Default XVM config changed to use regular green/red markers
Additional/alternate XVM configs included (classic sela-style markers and colorblind-compatible) - see Readme for instructions
** UPDATE 1 RELEASED 01/06/14 **
Locastan's Session Stats updated - issues appear to be resolved
XVM 5.0.2 test 2 (garage stats working again, XVM config updates)
NA Clan Icons updated
Melty Map's Math Mod (noscroll working)
Received Damage Announcer (updated, config changed)
Mods included:
XVM 5.0.2 test 2

Locastan/4lCapwn's Tank Carousel

Locastan's HD Minimap

MeltyMap's Math Mod

Artasan's White Death

Locastan's Garage Clock

Locastan's Colored Messages

Locastan's Session Stats

Locastan/Stl1te's Custom Damage Panel

Omegaice's ReceivedDamage Announcer

J1mB0's Contour Icons

Custom Mod Configurations
Note:
To enable switching from third person to sniper mode with the scroll wheel, go to C:\Games\World_of_Tanks\res_mods\0.8.10\gui and delete NoScroll.xml
Credits
Sela's Mods
Änderungen
11. Januar, 21:37 Uhr

Version 0.8.10
Dateien
Empfehlungsrate
-/-
noch nicht genug Stimmen
Ist dieser Mod besonders empfehlenswert?
}