WoW style XVM
V 0.9.14.1 Mod für World Of Tanks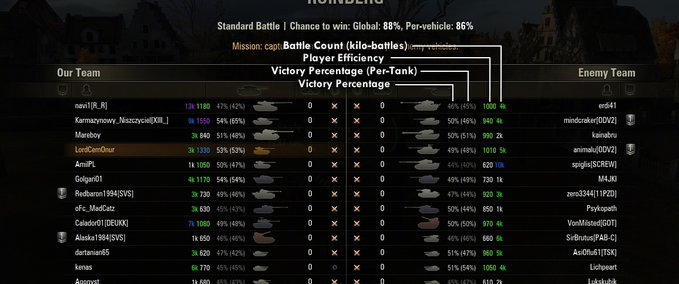 Beschreibung
This is a full XVM configuration designed to make efficiency colors WoW alike. Player efficiency will be colored with the World of Warcraft's default quality (rarity) ratings, like below:
NOTE: After you install this mod,you MUST go to XVMMOD.COM, sign in and then select Activate Statistics to see any player statistics. If you have already done this, disregard
NOTE:
Originally developed by LrdStudio, due to real life obligations was no longer able to keep it updated on a timely basis. He requested and I agreed to assume author responsibility. I will keep it current with the latest XVM changes and only make configuration changes based on community demand. Arasgrandpa
WoW Vanilla Version
This version is a stripped down version that remains as close to the original as possible.
NO Alternate Minimap View
NO Alternate Players Panel
NO Carousel in garage
NO grouping of hits on hitlog
NO colors for vehicle rating, the only colors are WN8 for the player name
This is ONLY the XVM configuration files, you will need to download XVM (www.xvmmod.com) and install it with these files. Tested in 0.9.7 and 0.9.8, no further updating of this configuration will be done.
Credits
Änderungen
09. April, 12:17 Uhr

Version 0.9.14.1
Dateien
Empfehlungsrate
-/-
noch nicht genug Stimmen
Ist dieser Mod besonders empfehlenswert?
}