BEARS TANDEM FOR SCANIA RS&T BY RJL
V 1.0 Mod für Eurotruck Simulator 2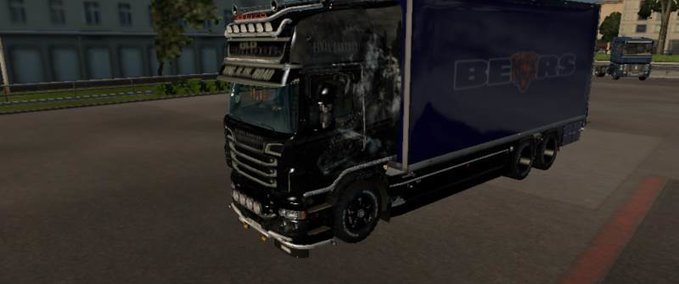 Beschreibung
Mod adds a tandem chassis for Scania RS and Scania T from RJL.
Each chassis has its own settings and accessories.
Side skirts (paint and plastic). Short and full-sized.
For each chassis there are only two types of body CoolLiner. Skin and paint.
Chassis options:
- 4x2 Tandem;
- 6x2 Tandem Rear stear;
- 6x2 Tandem Rear stear Taglift;
- 6x4 Tandem;
- 6x2 Tandem Taglift.
- 28 new rear wings, 3 for each chassis. (plastic, plastic and paint, paint, paint without top);
- 14 new side skirts, 2 for each chassis. (short for a cabinet and long without a cabinet);
- Added loads from DLC Italy to all trailers from the pack. (25 different types of cargo on 63 trailers);
- Added a beacon at the back of the dolly trolley and the trolley of the Wheelliner tandem;
- Added a triangular reflector on the back of the trolley dolly and the trailer tandem Coleliner;
- Fixed incorrect layout in single and double LOD files;
- Fixed dolly cart wheels to match the ground level;
- Fixed brightness and cabinet shine to match the appearance of the cargo box;
- 15 different trailers: 2, 3 and 4-axle curtains; 2, 3 and 4-axle curtains (ProfiLiner); 2, 3 and 4-axle curtains (CoolLiner); 3-axle containers and thermo.
Added sound V8 for each truck.
Changed the dashboard.
Credits
Model: 
Texture: 
Script:
Idea / Concept: Capital, Flemming V
Testing:
Other: 
Änderungen
08. Mai, 07:56 Uhr

Version 1.0
Bilder
Dateien
Empfehlungsrate
-/-
noch nicht genug Stimmen
Ist dieser Mod besonders empfehlenswert?
}