Ford Mustang [Need For Speed] von BurakTuna24 (...
V update auf 1.47 Mod für Eurotruck Simulator 2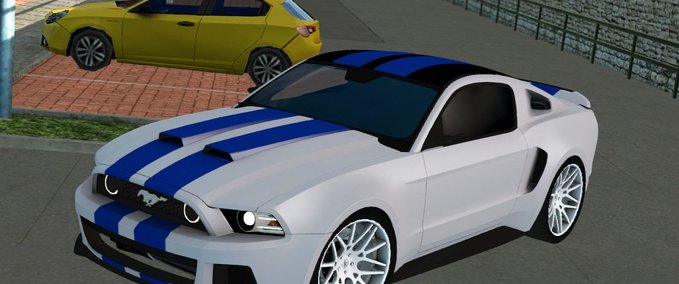 Beschreibung
– cabin accessory
– cabin light
– bottom neon led
– real inteiror
– original engine + sound
– body + rim covering ao ambiance
– can be purchased from all galleries
– Ao Ambience Coating (Berkay Pekesen)
– Own Real Motor sound (Quaken)
– Mod maker and owner (BurakTuna24)
DOWNLOAD LINKS:
Car: https://sharemods.com/zvn6u0qe2si9/Ford_Mustang_ByBurakTuna24_NfsMovie_car.scs.html
FIX: https://modsbase.com/8edi5t9xx3uh/Fix_Ford_Mustang_ByBurakTuna24_NfsMovie_ets2.scs.html
Lower the two connectors. Activate the car first, then enable the fix.
Credits:
BurakTuna24
Credits
Modell: BurakTuna24
Textur: BurakTuna24
Script: BurakTuna24
Idee / Konzept: BurakTuna24
Tester: BurakTuna24
Sonstige: BurakTuna24
Änderungen
22. März, 22:49 Uhr

Version update auf 1.47

Ford Mustang - 1.47

Ford Mustang
CHANGELOG
Game: Euro truck simulator 2
Updated to 1.47

Credits
trzpro

07. Dezember, 00:14 Uhr

Version update auf 1.46

Ford Mustang (1.46)

CHANGELOG
______________
Updated to 1.46

Credits:
trzpro

15. August, 01:45 Uhr

Version update auf 1.45

Ford Mustang (1.45)

CHANGELOG
__________________
Updated to 1.45

Credits:
trzpro

07. Juni, 21:36 Uhr

Version update auf 1.44

Ford Mustang - 1.44

changelog
____________________
updated to 1.44

Credits:
trzpro
buraktuna24

28. Januar, 20:37 Uhr

Version 2.0

Ford Mustang NFS Edition + Interior v2.0 (1.43.x)

Ford Mustang - this modification adds a very fast car with a top speed of up to 300 km/h for ATS / ETS2 players. The car is made exactly like a sports car from the movie Need For Speed. The racing sports car in the film demonstrates unprecedented agility, which will be demonstrated to them when installed in the game. For the exterior, you cannot use any additional accessories or repaint the sports car.

Features Ford Mustang NFS Edition:
- independent car model
- High-quality 3D model
- High-quality detailed exterior
- High-quality detailed interior
- the model has own wheels
- the model has own rims
- Correct car proportions
- Correct seat positions for peds
- working lights
- working mirrors
- present the illumination of arrow speedometer and tachometer
- the character is correctly sitting in the driver's seat
- correct position of the Ford Mustang logo
- the choice of wheels and rims
- Working headlights, brake lights, tail lights, front and rear turn signals, steering wheel and reverse signals
- The correct position of the player
- Support Cabin DLC accesories
- Cabin light
- Bottom neon led
- Supports all major functions of the game
- buy from Acces Mod dealer

Changes in v2.0:
- Adapted to the latest game patch 1.43;
- Updated physics.

Tested on game version 1.43.x

BurakTuna24, trzpro, BerkayPekesen, Quaken, Yunus Aman

23. Januar, 03:18 Uhr

Version 1.0 update auf 1.43

Ford Mustang [1.43]

CHANGELOG
___________________
Updated to 1.43
Standalone

Credits:
trzpro
BurakTuna24

18. Oktober, 22:51 Uhr

Version 1.0 update auf 1.38
Dateien
Empfehlungsrate
-/-
noch nicht genug Stimmen
Ist dieser Mod besonders empfehlenswert?
}