Mercedes-Benz Tourismo16 RHD 2018 (1.39.x)
V 1.1 Mod für Eurotruck Simulator 2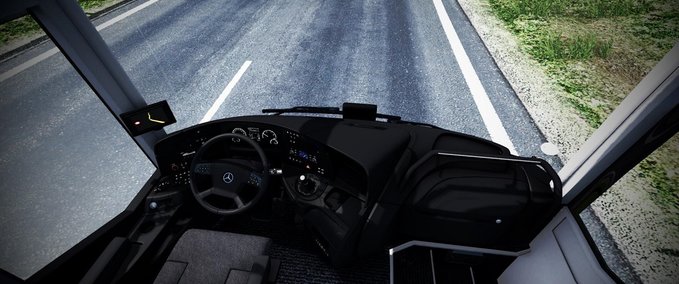 Beschreibung
Mercedes-Benz Tourismo16 RHD 2018 - high quality detailed bus model with own interior, sound and several skins added for ETS2 players. The vehicle has been completely re-modeled to its real appearance. The buses are always in perfect condition, so as to meet the stringent requirements for safe transport bus. You need not worry that the bus would not be safe, together with a professional driver for the rest of your journey will be absolutely safe.
Features Mercedes-Benz Tourismo16 RHD 2018:
- independent bus model
- High quality 3D model
- High quality detailed exterior
- High quality detailed interior
- the model has own interior
- the model has own sound
- the model has own wheels
- passangers seats
- present the illumination of arrow speedometer and tachometer
- the character is correctly sitting in the driver's seat
- the choice of engine power
- the choice of transmission and gearbox
- the choice of wheels configuration
- choice of color body / metallic paint / skins
- correct position of the Mercedes-Benz logo
- Working headlights, brake lights, tail lights, front and rear turn signals, steering wheel and reverse signals;
- The correct position of the player
- There are external tuning
- Cabin Accesories support
- FMod sound support
- Supports all major functions of the game
- buy in Acces Mod dealer
Tested on game version 1.39.x
Credits
Modell: OyuncuyusBisMods
Textur: OyuncuyusBisMods
Script: OyuncuyusBisMods
Idee / Konzept: OyuncuyusBisMods
Tester: OyuncuyusBisMods
Sonstige: OyuncuyusBisMods
Änderungen
14. April, 02:17 Uhr

Version 1.1

Mercedes-Benz Tourismo16 RHD 2018 v1.1 (1.40.x)

Tr
Yeni Tourismo 16Rhd Güncellemesi
Kabin içi ???klar? yenilendi.2renk koyuldu(sar?-beyaz-dü?ük ve yüksek seçenekli)
Kap? sesi eklendi
3.kamera seçene?inde fov yeniden ayarland?
Ayna ve cam parlamas? ve kararmas? giderildi
Eng
New Tourismo 16Rhd Update
Inside cabin lights have been renewed. 2 colors have been added (yellow-white-low and high options)
Door sound added
Fov readjusted in 3rd camera option
Mirror and glass glare and darkening are eliminated

Credits:
Project Owner: OyuncuyusBisMods
Model: Ya??z Bak?rc?
Convert: Artin Kazanciyan
Fmod Sound: Kriechbaum
Skinpack: Do?ancan Öztürk, Arda Sa?lam, Burak b?kmaz ve Can Karacan

31. Dezember, 21:28 Uhr

Version 1.0
Bilder
Dateien
Empfehlungsrate
-/-
noch nicht genug Stimmen
Ist dieser Mod besonders empfehlenswert?
}