MINI-TEST FÜR MODS [1.36.X]
V update 14.01.20 Mod für Eurotruck Simulator 2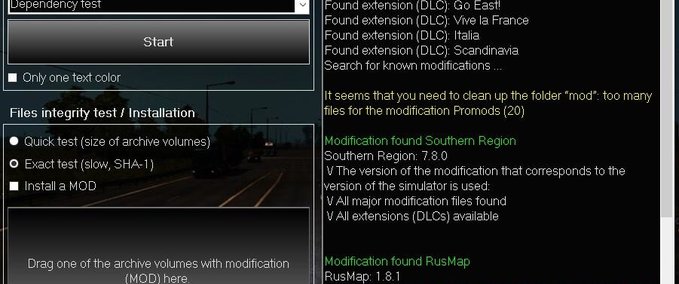 Beschreibung
This program was conceived as an assistant for the technical support of MODs.
Supported Versions:
Euro Truck Simulator 2: 1.31-1.36
Southern Region: 7.2.0-7.9.0
Promods: 2.30-2.43
Rusmap: 1.8.1, 1.9.1, 1.9.2, 2.0, 2.0 fix
Key features:
check the relevance of the version of the simulator;
check for the versions of the modifications that are appropriate for this version of the simulator;
check for the presence of extensions (DLCs) required for modifications;
quick check of modification files by file size;
accurate verification of modification files against checksums;
installation of the modification (unpacking files from a multivolume archive into the "mod" folder) *;
display the location of the game.log.txt file;
open the "mod" folder in the explorer;
enable and disable developer mode when the simulator is off (variables g_developer, g_console);
listing errors and warnings based on the game.log.txt file;
this software is available in 4 languages: Russian, French, English and Ukrainian.
This tool depends on:
.NET Framework 4
Windows XP/7/8/10
Credits
Modell: Alexms69
Textur: Alexms69
Script: Alexms69
Idee / Konzept: Alexms69
Tester: Alexms69
Sonstige: Alexms69
Änderungen
15. Januar, 02:20 Uhr

Version update 14.01.20
Bilder

von mods80
vor mehr als 1 Jahr

Dateien
Empfehlungsrate
-/-
noch nicht genug Stimmen
Ist dieser Mod besonders empfehlenswert?
}