PETERBILT 386 [1.37.X]
V 1.1 Mod für Eurotruck Simulator 2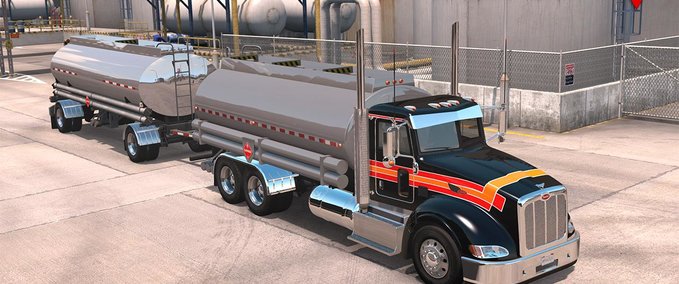 Beschreibung
Changelog
• Fixed Truck Dealer definition on not being able to find truck with other mods regarding Peterbilt Dealer.
• Template got updated! Hood piece between hood and cab got re-mapped. Along with various minor template fixes. (Thank you Tyrone's Booth!)
• Ability to change grille styles (no bars or 3 bars)
• Def file fixes
• Retarder removed from all transmissions
• Skin 3 fixed missing stripe along back of cab for all variants
• Sideskirts, emissions boxes, and exhaust underwent model and definition upgrades.
• Template fix on painted emission boxes
• Deranged_Maester thank you for helping with the Cabin definition issues! I had no clue how to repair that. Thanks again!
• Added rear work lights
Made the Peterbilt 386 project I've had going on the last few years public and as up-to-date as it can get! Granted it's not perfect, but this is the Initial release so the next versions after will continue to improve.
Here's a few key points to know about this mod..
-Made to run either with Robinicus or Krechibaum's sound packs for 1.37.x
-Has a template included!
-Multiple chassis options both stock and painted
-Multiple cab options
-Custom accessory nodes featuring antennas, lights, lightbars, bumpers, tanks, etc
-Based off the SCS Peterbilt 389 so a lot of parts may work for this truck. (except fuel tanks and step boxes)
-Truck and trailer chassis options!
Link 1 Truck v1.1: https://sharemods.com/bev16tfbjnfq/Peterbilt_386_1_37_x_Build_4_release.rar.html
Link 2 Template:
https://sharemods.com/p5g5nszmh9c1/Peterbilt_386_Template_AllCabs.rar.html
Credits
R.Modjeski (sib3rius) headmaster of project, made lots of parts from scratch, also produced textures
Colonel (hood and stainless bumper)
SCS (base model, a lot of parts, engine defs)
Colt/Pioneer (a couple visors, fuel tanks, fenders)
Sisl (CB Radio)
Robiniscus (sounds)
Änderungen
18. Juni, 08:37 Uhr

Version 1.1
Bilder
Dateien
Empfehlungsrate
-/-
noch nicht genug Stimmen
Ist dieser Mod besonders empfehlenswert?
}