Peterbilt 389 [SCS] überarbeitet von PRAPOR [1....
V 1.0 überarbeitet Mod für Eurotruck Simulator 2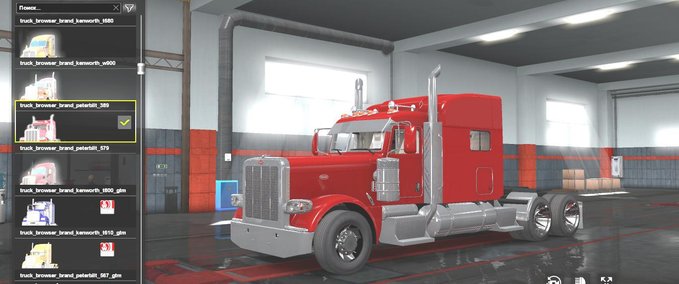 Beschreibung
SCS Peterbilt 389 truck adapted from ATS to ETS2
All chassis and cabs, 8 engines, 4 gearboxes are available. All tuning, which is available from zero level and has a very affordable price tag.
The engines are fully tuned, torque curves, engine braking revolutions and power mode, engine sounds from Robinicus are described in detail, fuel consumption is reduced (you can press the trigger on the trigger to the average consumption at high speeds of 30 liters per 100 km).
12, 18 high-speed and 8-speed transmissions have the main pairs 4.10 and 6.33, respectively, which positively affects the transmission of torque to the drive wheels. In all transmissions, the delay when shifting gears in automatic mode is reduced, which significantly reduces the loss of torque and speed when shifting to another gear and reduces the acceleration time of the truck.
The chassis and cockpit collisions are modified to easily overcome off-road conditions, without jams and without taking damage (at a reasonable speed).
Comfortable Physics Mod
good handling and brakes allow you to comfortably travel at speeds from 120 km / h to 150 km / h.
Modified fines: speeding tickets are disabled, all other fines for traffic violations work.
Link 1 Truck: 
https://sharemods.com/uy80w41syrvo/SCS_Peterbilt_389.scs.html
Link 2 Template:
https://modsbase.com/p9pe42a9glco/template_389.rar.html
Credits:
SCS, adapted PRAPOR
Credits
Modell: SCS, adapted PRAPOR
Textur: SCS, adapted PRAPOR
Script: SCS, adapted PRAPOR
Idee / Konzept: SCS, adapted PRAPOR
Tester: SCS, adapted PRAPOR
Sonstige: SCS, adapted PRAPOR
Änderungen
07. Juli, 22:58 Uhr

Version 1.0 überarbeitet
Bilder
Dateien
Empfehlungsrate
-/-
noch nicht genug Stimmen
Ist dieser Mod besonders empfehlenswert?
}