ProMods & RusMap Correctmap 1.28
V 2 Mod für Eurotruck Simulator 2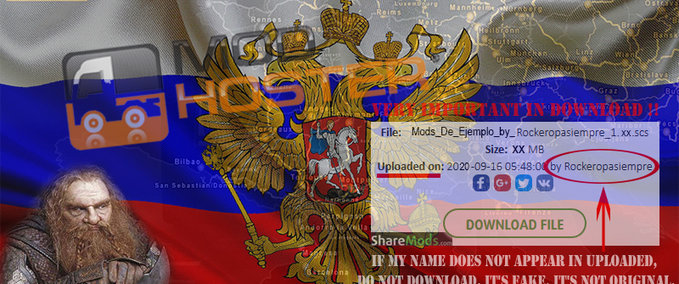 Beschreibung
ProMods & RusMap Correctmap 1.28
At the request of "MrTruckgirl".
Hi. First of all and to receive criticisms "ALREADY THAT THE FIX IS NOT NECESSARY, IF YOU PLACE WELL THE FILES OF BOTH MAPS".
Well, that's what I said. If both files of promods 2.20 and Rusmap 1.7.4 are correctly placed, "FIX IS NOT NECESSARY TO USE". Since there are still people who are confused enough at the time of placing the files, I created this fix at the request of my partner "MrTruckgirl", that more than I have explained a thousand times the order of the files, is still confused. So as there are people who place a map on top of the other in the mods manager, I have made the fix to place it on top of the last file and so have no problems with the view and the zoom of the map.
The correct order of the files without the fix is ??that of the left part of the image. If you get confused and not clear, use the fix, put it up and ready.
Änderungen
20. September, 23:15 Uhr

Version 2
Dateien

Empfehlungsrate
-/-
noch nicht genug Stimmen
Ist dieser Mod besonders empfehlenswert?
}