Scania LS 110/111 [1.27.x]
V update auf 1.44 Mod für Eurotruck Simulator 2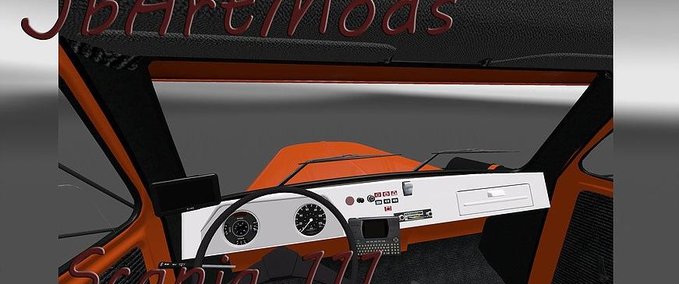 Beschreibung
After a long wait, JbArtMods has finally released the Scania LS 110/111. Thanks to the Brazilian modder João Batista for his hard working over this old beast.
The model has:
3 chassis;
3 different interiors;
2 realistic engines;
2 realistic transmissions + 2 non-realistic;
a lot of accessories
animated mudflaps
====================================================
The truck was made under v1.26 of the game but it works on v1.27, so just forget about the warnings in the game log. 
====================================================
Support JbArtMods in his home page and facebook:
http://joaobsoliveira.wixsite.com/jbartmods
https://www.facebook.com/Jbartmods-1456216158042617/?ref=py_c
====================================================
Credits:
JbArtMods
link 1: Mod
link 2: Fix
link 3: Sound
Credits
Modell: JbArtMods
Textur: JbArtMods
Script: JbArtMods
Idee / Konzept: JbArtMods
Tester: JbArtMods
Sonstige: JbArtMods
Änderungen
24. Mai, 23:06 Uhr

Version update auf 1.44

Scania LS 110/111 + Interior v1.4 by JbArtMods (1.44.x)

Scania LS 110/111 - the new work of a famous author from Brazil is distinguished by an accurate 3d model, characteristics close to reality. Their interiors for each model, the correct Brazilian (European other) dashboard of the 110th car, including the early white (in fact – painted with "molotkovoj" enamel).

Features Scania LS 110/111:
- independent truck model
- High quality 3D model
- High quality detailed exterior
- High quality detailed interior
- High quality rims & 3D tires
- High quality mirrors reflection
- Correct exhaust smoke position
- Correct plate license position
- the model has own wheels
- the model has own sound
- the model has own interior
- animated antenna
- passanger seat
- present the illumination of arrow speedometer and tachometer
- the character is correctly sitting in the driver's seat cabin
- the choice of wheels and rims
- the choice of color body / metallic paint
- the choice of transmission, gearbox (7 engine + 5 transmission)
- the choice of chassis (3 types)
- the choice of interiors (3 types)
- correct position of the Scania logo
- Working headlights, brake lights, tail lights, front and rear turn signals, steering wheel and reverse signals;
- The correct position of the player
- interior accesories configuration
- There are external tuning
- Support for Cabin Accessories DLC
- Supports all major functions of the game
- buy from Scania or Acces Mod dealer

Changes in v1.4:
- Adapted to the latest game patch 1.44

20. Juni, 19:53 Uhr

Version update auf 1.27
Bilder
Dateien
Empfehlungsrate
-/-
noch nicht genug Stimmen
Ist dieser Mod besonders empfehlenswert?
}