SCANIA NEXT GEN IMPROVEMENTS AND REWORK 1.35.X
V überarbeiteter LKW 1.0 Mod für Eurotruck Simulator 2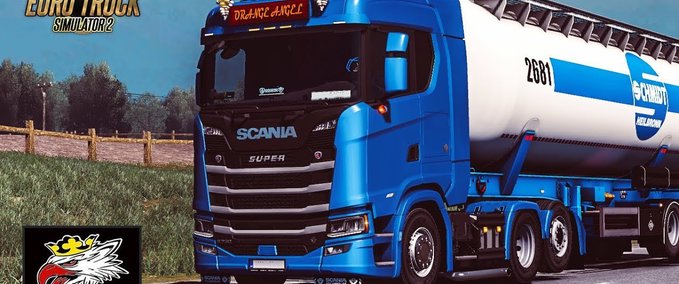 Beschreibung
this is it. The first iteration of  remake of SCS Next Generation Scania R&S
Truck replaces default Scania R & S series, also trucks in quick jobs are modded, both EU and UK
Showroom models are new aswell
Full list of changes in 1.0.
Chassis
- Every chassis has a new variant with different fuel tanks and battery box placement
- All cahssis are now devided to V8 and L6 variants (only difference is exhaust system)
- 2 New 6x2 chassis with single-tyre tag axle (Long and Short)
Engines
- New Euro-5 engines: 380, 440, 620 hp
Tuning
- New sideskirts
- New variants of rear fenders
- New variant of rear bumpers
- New licence plate holders, plus custom licence plate variant
- New sunshields
- Removable roof Spoiler, new variants of Spoilers
- Removable/Paintable ACC radar
- New side-panels
- Different small stuff added (V8 Next Generation badge, a couple of hanging toys inside cab, new rear mudflaps)
Credits
Modell: Eugene
Textur: Eugene
Script: Eugene
Idee / Konzept: Eugene
Tester: Eugene
Sonstige: Eugene
Änderungen
23. Juni, 06:36 Uhr

Version überarbeiteter LKW 1.0
Dateien
Empfehlungsrate
-/-
noch nicht genug Stimmen
Ist dieser Mod besonders empfehlenswert?
}