Volvo Pack LightPlus
V 4r2 All DLC 1.22xOnly Mod für Eurotruck Simulator 2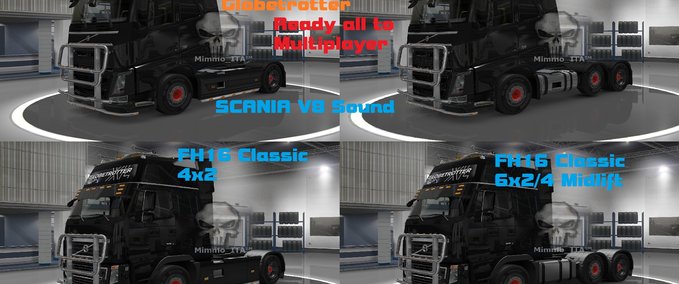 Beschreibung
Volvo FH16 2012 4x2 and 6x2/4 Midlift, Removed decals Globetrotter, Black Front Grill, sound internal and external SCANIA V8,with all accessories installed; 
Volvo FH16 Classic 4x2 and 6x2/4 Midlift with all accessories installed and internal/external sound SCANIA V8, only to buy and drive! Buying the truck with all the accessories and saving the game the MOD can be removed, and the truck can be used in multiplayer!
Änderungen
12. Januar, 11:18 Uhr

Version 4r2 All DLC 1.22xOnly

Fixed bug that did not allow repair Trucks

26. Dezember, 03:29 Uhr

Version 3.0 Release 1 All DLC 1.21x Multiplayer Ready
Dateien

Empfehlungsrate
-/-
noch nicht genug Stimmen
Ist dieser Mod besonders empfehlenswert?
V 3.0 Release 1 All DLC 1.21x Multiplay...
}