Worldwide Substrate
V 2.8.1 Mod für Eurotruck Simulator 2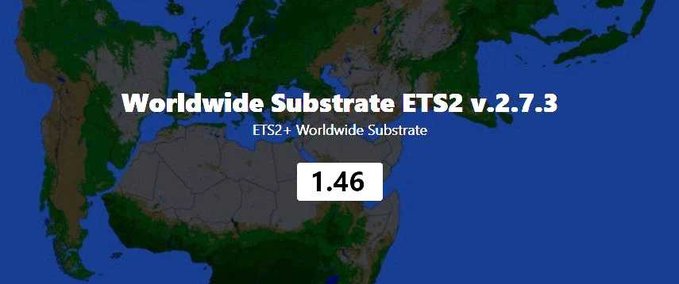 Beschreibung
Worldwide Substrate ETS2
Changelog:
2.7.3
– Minor amendments to the borders of Italy
– Corrections of borders and coastlines for MHAPro EU 1.46
– Minor corrections of the borders of African countries
– Redrawn Novaya Zemlya and the island in the Polar region for the map RUSSIAN ISLANDS MAP
ETS2 1.46
Credits
freeman646
Credits
Modell: freeman646
Textur: freeman646
Script:freeman646
Idee / Konzept: freeman646
Tester:freeman646
Sonstige: freeman646
Änderungen
16. März, 00:27 Uhr

Version 2.8.1

Worldwide Substrate v2.8.1 - 1.46

Changelog v2.8.1
Minor border edits in Europe
Temporarily reverted and archived version without EAA
Added version without EAA, but with Grand Utopia (drawn in haste)

ETS2 1.46

Credits
freeman646

12. März, 02:26 Uhr

Version 2.8

World Background Map v2.8 - 1.46

The mod adds a base map for ETS2 maps to the game.

Peculiarities:

Based on a map from ProMods and DOWL, later Melphiz changed the location of the continents to match the game world, not the real one.
Greenland has also been fixed, Yemen and Oman borders have been fixed, Jan Mayen Island has been added, a map of South America (EAA) has been added.
The brightness has also been reduced so that country names are visible on the cargo map.
At the moment this is the only map that fully and correctly displays the map of Brazil (EAA MAPA)

Changes:

Minor border fixes in Europe
Temporarily returned and included in the archive version without EAA
Added version without EAA, but with Grand Utopia (for those who don't know, a patch has been released that allows you to run Grand Utopia on the "Europe" module and even on the version with ProMods. The background works the same on both)
Installation: unpack the downloaded file, copy it to the mod folder and connect it in the mod manager.

For game version 1.46.x

Authors: Melphiz, Freeman646

03. Februar, 00:54 Uhr

Version 2.7.3
Bilder
Dateien
Empfehlungsrate
-/-
noch nicht genug Stimmen
Ist dieser Mod besonders empfehlenswert?
}