Mercedes Benz Actros MPIV
V 2.5 Mod für Eurotruck Simulator 2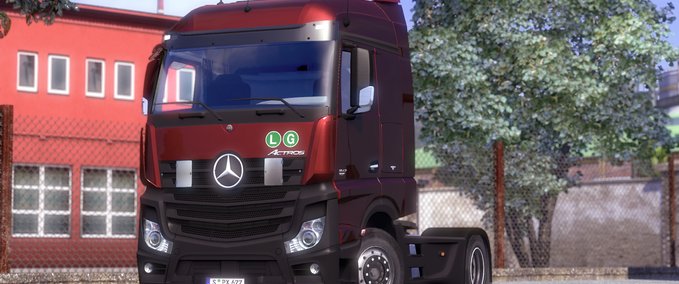 Beschreibung
New Update 26.06.14 
Description: 
Option 1: 
The machine has a number of engines 421-750 hp, bought a Mercedes sedan, painted, 
has several options for metallic color, a specific number of skins, 
two versions of the cab chassis 4x2, 6x4, 4 different transmissions, 
lounge (who but how I can do strictly to their taste) not always, has both external and internal lighting, 
mirrors, two options appear Night lounge - black and blue, built Navigator. 
Integrated fashion with a set of wheels from Ventures. 
Especially on the car you put the files with various attachments, 
and so get the file machines more. 
Option 2: 
Blinds clean modes facilitated by half - leave away all unnecessary in my opinion, 
Skins, Metallic and standard. 
Now the weight of 248 will be tolerated. 
Version: 1.10.1.12 
Authors: DANZ, ED94, CH_Vitalik, Ventyres, Santor
Credits
3D-Modell: 3D-Modell bezahlt
Grund 3D-Modell: SCS Software [Euro Truck Simulator 2]
Animation: Joe
Alteration, die Umwandlung und Mapping in der ETS2: DANZ [D3S DESIGN]
Motoren und Getriebe: DANZ [D3S DESIGN]
Vielen Dank an Joe, Ch_Vitalik und DieselRocker für Test und Tip
Änderungen
07. Dezember, 11:22 Uhr

Version 2.5

– full support of game engine features
– quality HighPoly 3D model
– HQ texture and shadow map
– includes all paintjobs SCS
– tested on game version 1.14.2

New:
Supporting Christmas paintjobs

Credits:
sekich1, DANZ, SCS, Joe,

26. Juni, 19:06 Uhr

Version 1.11

Beschreibung:

Option 1:

Die Maschine hat eine Reihe von Motoren von 421 bis 750 PS, kaufte eine Mercedes-Limousine, lackiert,
hat mehrere Optionen für metallische Farbe, eine bestimmte Anzahl von Fellen,
zwei Versionen des Kabinenrahmen 4x2, 6x4, 4 verschiedene Getriebe,
Lounge (wer aber wie ich streng nach ihrem Geschmack machen kann) nicht immer, hat externe und interne Beleuchtung,
Spiegel, erscheinen zwei Optionen Nacht Lounge - schwarz und blau, gebaut Navigator.
Integrierte Mode mit einem Satz Räder von Ventures.
Vor allem auf das Auto setzen Sie die Dateien mit verschiedenen Anbaugeräten,
und so bekommen die Datei Maschinen mehr.

Option 2:

Blinds sauber Modi um die Hälfte erleichtert - weg lassen meiner Meinung nach alle nicht benötigten,
Skins, Metallic und Standard.
Nun wird das Gewicht von 248 wird toleriert.

Version: 1.10.1.12
Autoren: DANZ, ED94, CH_Vitalik, Ventyres, Santor

24. Juni, 00:23 Uhr

Version 1.10
Bilder
Dateien
Empfehlungsrate
-/-
noch nicht genug Stimmen
Ist dieser Mod besonders empfehlenswert?
}