Claas Dominator 88s
V 1.1.1 Mod für Landwirtschafts Simulator 15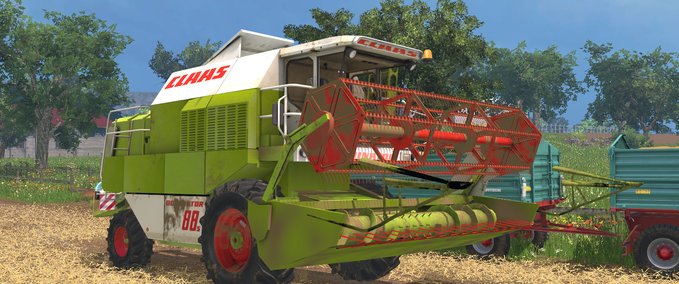 Beschreibung
Empfehlung:
Hier nun die non-Advanced Version des Dominator 88s. Non-Advanced bedeutet, dass das Getriebe-Script sowie die manuelle Schneidwerkshöhenregelung herausgenommen wurden und damit der Drescher wie Standard-Fahrzeuge gesteuert wird.

HIER geht es zur Advanced-Version
Der alternative Download (uploadfiles.eu) enthält nur die aktualisierten Scripte, und nicht den kompletten Drescher!
(Installation: Die ClaasDominator88s_nonAdvanced.zip öffnen, in den Ordner 'Scripts' navigieren und die neuen Dateien aus der updated-scripts-v1.1.1-nonAdvanced.rar in die ZIP-Datei kopieren.)
Leiter und Tür sind animiert

aktuelle Auslastung mit Auswirkung auf Ertrag

ab 90% sinkt die Dreschqualität -> geringerer Ertrag

bei 100% Auslastung verstopft der Schrägförderer

ab 95% beginnt es zu piepen (piept auch weiter wenn verstopft!)

neue, realistische Sounds (Auch Indoorsound!)

C420: animierte Messer (auch auf dem Rapsvorsatz)
Claas Schneidwerkswagen (umgebauter TAM Leguan)
Ich wünsche nun viel Spaß und eine erfolgreiche Ernte.
Credits
Conversion to FS 15: SIID
Conversion cutter to FS 15: lookee86
Amendments in the model Header: GoldFox
New Scripts, Sounds, etc.: Rival
Änderungen
15. Juli, 19:11 Uhr

Version 1.1.1

- MP compatibility
The alternative link are the updated scripts, put them in the scripts folder if you already have v1.1

13. Juli, 18:52 Uhr

Version 1.1 non-Advanced

Ist dieser Mod besonders empfehlenswert?
}