American Trucks Pack
V 2.0 Mod für Eurotruck Simulator 2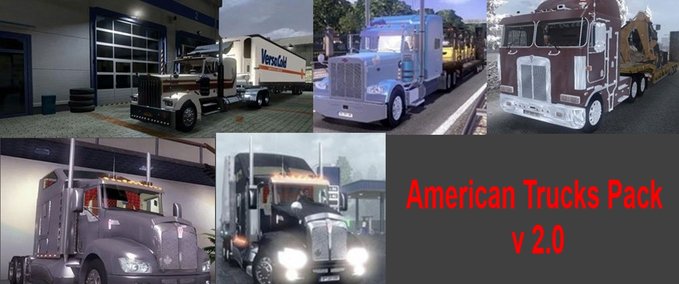 Beschreibung
Description:
In Pack includes 7 American Trucks:
Kenworth 900B Long Version:
- Fully independent model . Bought in the cabin MAN.
- Spelled " step" parlor camera to move to a sleeping compartment .
- When you press the "o", GPS changes to the camera in front bumper.
- When you press the "F", included a rearview camera monitor in the sleeping compartment , thus it is necessary to turn the mouse back (if necessary to catch the position at which the camera is active )
- Two variants of the sound (ZZzzKenworth_Long_sound_engine_CatC15-Kriechbaum.scs – added a mod )
- When diffusing, please do not forget the great authors write.
Kenworth K100:
- Fixed registration , you can now start a career at Kenworth K- 100 . Added 481 hp engine , fixed tanks , put tanks in real life at 105 gallons per tank . Tucked away from the driver cabin. Posted by box 14. And the same has been corrected errors on trifles.
- Fully independent model . Truck you can buy in a showroom Mercedes. Your own salon animation.
Kenworth T660:
- Registered individual Truckee present your little tuning, their engines, sounds, interior, wheels, transmissions, chassis, 6×4 and 6×6, registered in the traffic outside wipers not animated.
- Bought in the cabin MAN – last slot Test to version 1.7.1
Kenworth W900aRC:
- An update of the sound of my engine 8V-92. All files are new engine sounds. Led from an original 8 V92. The sound of the engine.
- The sound is included in the truck. is an all in one, as usual. (Truck + sound)
- This truck can be found in a seller Daf. As above has a 760hp engine and a gear box 18.
- Once unzipped, you will see "version5?, but do not worry, it's really version 6. Just rename it if you want.
Peterbilt 389:
- Test on Version 1.8.2.5
- Replace Iveco
Kenworth T2000:
- Standlone Truck
- You can find it at Scania dealer
- Own sounds
- 2 types of interior
- Fixed minor bugs
- Interior colors
- New camera position in interior
- Fixed minor bugs, not crashing in garage anymore
Kenworth T800
- Standlone model
- Tuning
- Interior
The new in that pack: updated some trucks, added Kenworth models T2000 and T800
All models works on new versions
Authors:
Kenworth 900B Long Version:
Authors (Howlin): pete379jps, Cerritos.
Envelope, animation and registration in ETS2 – "dmitry68? and "Stas556?
Sound: Kriechbaum ( big thanks for your work! )
Added on Wheels "preta"
Kenworth K100:
Author model : Ivan and Ols
Author of the original interior for PTTM – laza-truck
Author Salon : Oleg_Conte, Stas556, darklorrd
Animation : Stas556, Oleg_Conte
Author envelope in ETS- 2: AU44
Special thanks for help: HaXwell, rus47tam
Kenworth T660:
Author "HAULIN": MasterChief2808
Envelope and refinement in ETS2: Panther
Kenworth W900aRC:
Kriechbaum
Peterbilt 389:
Builder by Ivan (Haulin)
Import ATS/GTS and building : Kenworth58(2)
GTS import: Iljaxas
Parts : Ivan, Superman, Classick, Bayonett, Artic Wolf, Cedric, Peter379, Colonel, Dylan, Matt, Steve,Bora,Rowan,Sascha,Chris,DieselRocker
Wheels: VENTYRES©Ventures87 and Ivan
Covert to ETS2: dmitry68? "Stas556?
Sound by Kriechbaum
Kenworth T2000:
Andrywka, Ant457, Vladimir Pavlov, ExclusiveUA, Rin'g'Roll 3
Kenworth T800:
Kirill73rus 
Version game:
Works with 1.9.22,1.9.24.1 versions
Credits
ook in descriptions
Änderungen
28. April, 17:41 Uhr

Version 2.0
Bilder

von AU44
vor mehr als 6 Jahre

Dateien
Empfehlungsrate
-/-
noch nicht genug Stimmen
Ist dieser Mod besonders empfehlenswert?
}