Erhöhte Lieferzeiten von Darkcaptain (1.40.x)
V 2.0 Mod für Eurotruck Simulator 2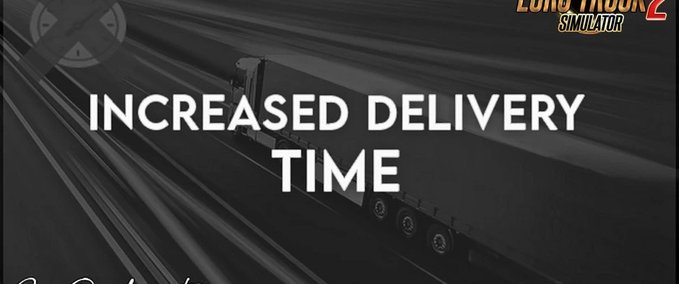 Beschreibung
Increased Delivery Time - this mod extends the timeframe for deliveries for ETS2 players. If you like to travel on back roads, stop to look at landscapes, moderate speed due to rain or high traffic, or just drive without urgency? this mod is for you.
Features Mod:
- This mod extends the timeframe for deliveries;
- If you have an active order, the extratime will not work until the next job;
- This mod may be affected if you use another Economy Mod.
Changes in v2.0:
- Now it has no effect on the deliveries of the workers (they do not take more time to make their deliveries).
Tested on game version 1.40.x
1. Link - Normal: 
https://modsbase.com/2og2ewhsg1ce/Increased_Delivery_Time_for_ETS2.scs.html
2. Link - Plus for ETS2: 
https://modsbase.com/2iy8bo1y5ohg/Increased_Delivery_Time_Plus_Version_for_ETS2.scs.html
Credits
Modell: Darkcaptain
Textur: Darkcaptain
Script:Darkcaptain
Idee / Konzept: Darkcaptain
Tester:Darkcaptain
Sonstige: Darkcaptain
Änderungen
20. April, 03:15 Uhr

Version 2.0
Dateien
Empfehlungsrate
-/-
noch nicht genug Stimmen
Ist dieser Mod besonders empfehlenswert?
}