Freightliner FLD by odd_fellow
V update auf 1.47 Mod für American Truck Simulator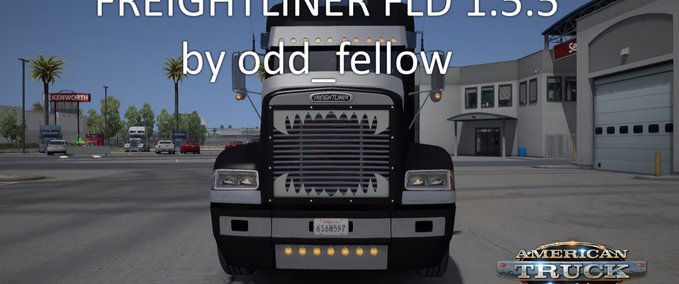 Beschreibung
1.5.5 update changelog:
– Mod is now officially ERROR free. There are some occasional texture compression warnings, but doesn't have any impact on gameplay, fps or whatever.
– Every pmg model has been updated to the latest version.
– Log won't be whining about camera azimuths anymore.
– Sidesteps moved to optional tuning where they belong, please check out.
First of all, if you like my mods and really want to endorse, become my patron on Patreon.com. Your support matters. I'll be making more high quality content with your support.
https://www.patreon.com/odd_fellow_modding
If you don't want to become a patron and just want to throw two cents, here's my PayPal:
alphacatfish@gmail.com
I won't even bother making a list of all tuning options as there are too many. I recommend you to pay full attention to all of the upgrade dots while in truck config menu, because sometimes it's not obvious which dot does what.
If you play ETS2 and notice crashes while in truck config menu, it may be related to missing Accessories DLC. I personally couldn't reproduce this crash on my setup/never had any problems with it.
You can purchase it at Kenworth (ATS) or Renault (ETS2) dealership. UV template included in the archive.
Tested on 1.28.x game version. It may conflict with my previous Classic XL mod, so remove it before activating FLD. You have been warned!
SPECIAL THANKS TO MY SUPPORTERS in no particular order (both Patreon and PayPal):
Rick Eggers
Thomas Parham
Evgeny Shmidt
Jared Jackson
Joseph Thorne
ZHUK
Now comes the boring part.
DISCLAIMER:
This mod is considered freeware and is intended for personal use ONLY. Reuploading, reselling, reclaiming ownership, unauthorized modifying, in other words, changing a few things and calling it your mod is strictly prohibited, you will receive a report and uploaded file will be removed.
Have fun!
Credits:
odd_fellow
Credits
Modell: odd_fellow
Textur: odd_fellow
Script: odd_fellow
Idee / Konzept: odd_fellow
Tester: odd_fellow
Sonstige: odd_fellow
Änderungen
24. Mai, 18:16 Uhr

Version update auf 1.47

Freightliner FLD - 1.47

Freightliner FLD update

Update:
Adapted for 1.47+ patches

https://www.paypal.com/donate/?hosted_button_id=MB39A8JBM4ZGN

Credits
odd_fellow,Harven,Lucasi,Pauly, SMRS

20. Oktober, 01:03 Uhr

Version update auf 1.45

Freightliner FLD - 1.45

Buy at the Freightliner Dealer
Tested on ATS
1.45 will not work on older game versions

Harven,Lucasi,Odd_fellow gave full permission to add his FLD to the workshop.
Fully gone thru and tested with no errors but like all mods conflicts may occur on your end depending what mods you use.

Updated October 17 2022
Fx windows error
Compressed mod from 700 to 200mb

Also supports SisL Cabin accessories

by Harven
Extensive cleaning of the clutter, warnings and errors, wipers and mirrors, OpenGL, continous updating
Minor file editing and new icons by Lucasi
Skins-Pauly,Lucasi

by Faster
Update materials accesorys and new anims

22. Juli, 04:42 Uhr

Version 2.7

Freightliner FLD v2.7 - 1.44/1.45

Update 2.7:
Updated engine sounds with better quality

NOTE: Back up and keep the old version (to change it back) if you don't like this one.

Credits
Updated by SMRS(Bananas)Original credits: odd_fellow and others

05. Dezember, 23:45 Uhr

Version 2.0 (upd. 05.12.18)

Changelog [upd: 05.12.18]:
- Updated to 1.33

Other:
- Standalone;
- Find in Kenworth;
- 2 cabins;
- 1 version of the chassis;
- 14 engines (in place of the engine, the nameplate on the door changes);
- 6 transmissions;
- own interior (2 options);
- Own sounds (several options, depending on the brand of the engine);
- Own wheels;
- There are own skins;
- Supports advanced coupler;
- Support for DLC Cabin Accessories and SISL Mega Pack;
- Many tuning and accessories.

21. März, 20:16 Uhr

Version 2.0

FREIGHTLINER FLD (UPD:07.03.18) V2.0 [1.30.x]

Standalone model

It is purchased in the salons of Kenworth
- Your own interior
- Their sounds
- Tuning (exterior - interior)
- Adaptation to Accessories DLC (preferably DLC accessories and SISL pack)
- Template included

Updated:
- completely corrected all the errors, but like all the modes, it can conflict with other established modes
- cleaning the log (warnings and errors), also added steering wheel adjustments and animation of the trailer brake valve
- small file editing and new icons
- skins

04. September, 17:24 Uhr

Version 1.5.5
Dateien
Empfehlungsrate
-/-
noch nicht genug Stimmen
Ist dieser Mod besonders empfehlenswert?
}