SUMMER GRAPHICS REMASTERED - SPINTIRES: MUDRUNNER
V 1.2.2 Mod für Spintires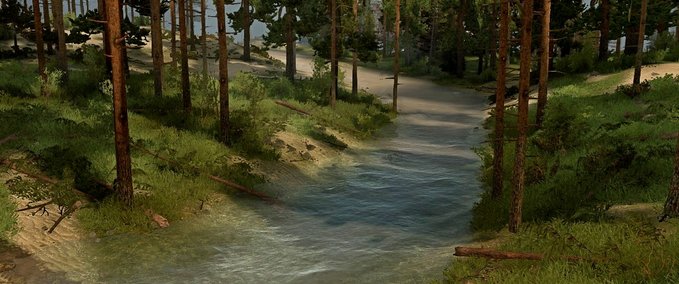 Beschreibung
- the texture of the cones has been remade from scratch, now it's not formless blurry spots, but something more or less like cones :-)
- sounds added;
- Corrected a couple of textures.
The modification was configured under SweetFX 1.3 By limon and is recommended for use with it as well as with the following mods:
- Fashion Clear Water for Spintires: MudRunner;
- Mode Always Sun + Fog Reduction + Blue Sky version 1 for Spintires: MudRunner.
But remember that SweetFX can conflict with the editor (for those who use it), and the fashion that changes the transparency of the water and the sky - with multiplayer.
It is for this reason that it did not include them in the assembly, which, in theory, should not cause the above-mentioned problems. contains only changed textures.
Features of Summer Graphics Remastered:
- The grain is removed (Film Grain);
- Removed map delimiters (red signs);
"It's always summer now;
- HD texture;
- New textures of the compass, dashboard, driver, rope, earth, roads and vegetation;
- Original radiator grilles for stock technology;
- Particular emphasis is placed on the least unnoticeable transfer of Lod'ov, an exception in this regard is made only for coniferous trees;
- HD texture of the logs of own authorship;
- Added a new plant.
Screenshots and video review are made using the above modifications.
Installation:
1. We make a full backup to be able to return everything to the place, if you do not like something;
2. Unpack the archive and replace the files in the corresponding .zip directories (who uses the unpacked modified folders to guess where to put the files ;-);
3. Run the file "Clearing the cache (without resetting the game settings) .bat"
Note: the following works were used in the assembly:
1. Textures "Summer" version 1.0 for MudRunner
2. "Realism HD 2017 version 2.0" for SpinTires
3. Mod "Rainy weather" for SpinTires
4. Textures "Juicy Summer" version 2 for SpinTires
5. Original MudRunner files and several separate textural modifications of the compass, cable and driver.
Credits
Modell: Олег Кондратов (condros)
Textur: Олег Кондратов (condros)
Script: Олег Кондратов (condros)
Idee / Konzept: Олег Кондратов (condros)
Tester: Олег Кондратов (condros)
Sonstige: Олег Кондратов (condros)
Änderungen
02. Dezember, 01:19 Uhr

Version 1.2.2
Bilder

von mods80
vor mehr als 3 Jahre

Dateien
Empfehlungsrate
-/-
noch nicht genug Stimmen
Ist dieser Mod besonders empfehlenswert?
}