John Deere 7310R
V 2.1 double wheels Mod für Landwirtschafts Simulator 2013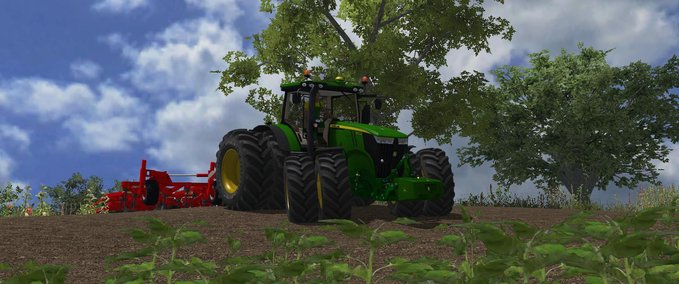 Beschreibung
Empfehlung:
John Deere 7310R - Beta! 
Diese Modell JD 7310R ist von AGO für absolute Detail- und Funktionsfreaks gebaut worden.
Minimalisten können nun das lesen einstellen und weiter klicken...!
Mit einem Face Lift der Motorhaube neuem Motor, Reifen, ComandArm und ComandCenter, sowie neue Funktionen, wie z.B. das Öffnen und Schließen der Kabinentür von "außen". Weiterhin hat er von mir (Knechti) ein neues überarbeitetes Sound-Set bekommen.
Der Funktionsumfang ist wie bei den Vorgänger Modellen der 7R Reihe noch etwas gestiegen. Was aus der Kabine heraus und außerhalb des Traktors zu steuern ist, zeigt euch ein Video von uns und erspart hier das lange auflisten der Funktionen!
Ago hat aus diesem Mod optisch und funktionell herausgeholt was möglich war, ohne Verlust auf die Spielperformance. So sollte dieser Traktor sowohl die In- als auch Outdoor Freaks zufrieden stellen…
Achtung: Wir haben immer noch kleinere Probleme mit der neuen IC-Steuerung im MP..! Deshalb ist das eine Beta!! AGO ist dran das zu fixen,.. Was aber für uns kein Grund ist, euch den Mod vor zu enthalten und den Release zu verschieben…!
Bekannte Fehler, die in der V2.0 gefixt werden:
1.) Im MP streikt die IC-Steuerung bei einigen Funktionen... also im MP einfach darauf erstmal verzichten bitte. Ansonsten schmeist der Mod keine Fehler im MP...!
2.) Handanimation und RealIndoorCam mögen sich nicht wirklich. Muss jedes mal neu justiert werden das die linke Schulter nicht and der Backe klebt..!
Dieser Mod wird exclusive bei modhoster.de angeboten, und darf auf keinem anderem Forum zum Download angeboten werden. Es gibt auch keine Freigaben auf Veränderungen irgend einer Art!

John Deere 7310R v.1 LS13 diAgo-Modding Ë distribuito con Licenza Creative Commons Attribuzione - Non commerciale - Non opere derivate 4.0 Internazionale.
Based on a work at http://www.modhoster.de/.
Permessi ulteriori rispetto alle finalit‡ della presente licenza possono essere disponibili presso https://www.facebook.com/ago.systemtech.

Sound-Set und JD7R von LSKnechti und Ago steht unter einer Creative Commons Namensnennung-NichtKommerziell-KeineBearbeitung 3.0 Unported Lizenz.
LS13 - Landwirtschafts Simulator


Wirb ebenfalls für deine Seite
Credits
Ago-Systemtech
meyer123
fin050808
Knechti

Templaer
Manuel Leithner (SFM-Modding)
Modelleicher (www.schwabenmodding.bplaced.net)
Sven777b
JoXXer
Tobias F.
Knagsted
Mofa-Killer
Clod
Face
Heady
Hummel
Burner
Änderungen
30. August, 17:26 Uhr

Version 2.1 double wheels

Added the double wheels with the collision, are not removable attention !!

enjoy...

16. März, 16:19 Uhr

Version 2.0

So hier nun die Version 2.0 des John Deere 7310R mit einigen Fixes und Neuerungen. Viel Spaß auf dem Acker...!

Download muss entpackt werden..! Es enthält ebenfalls das EasyMass Frontgewicht.

- Fehler Fix für IC Control
- Neue Animation Vorderachse
- Neuer Dirt Skin
- Pack enthält EasyMass Frontgewicht

27. Februar, 18:44 Uhr

Version 1.0 Modell 2014 Beta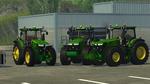 Ist dieser Mod besonders empfehlenswert?
}